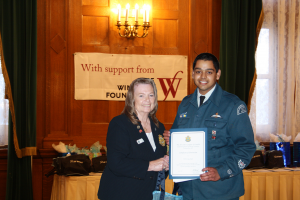 I had the privilege to represent Saskatchewan at the National Effective Speaking Competition held on June 15,2017 and to tour Winnipeg from June 14-18. Here is an overview  of the trip:
During my visit to Winnipeg,I met with cadets from every province of Canada (and one territory).By the end of the trip, we were all great friends and had lots of fun.Some places that we visited include the Legislative building (where we also met the Lieutenant Governor of Manitoba), NORAD,Nav Canada,Boeing factory,Magellan Aerospace,Canadian Museum for Human Rights, Southport flight school(where we flew In their airplane and helicopter  simulators),17 Wing military base (plus hangar tour of multiple aircraft),and Royal Canadian Mint. Every day was jam-packed with unique places to visit.In addition to this,we were also able to do fun activities such as bowling and eat at the famous Winnipeg BDIIce Cream.On our "off-time",we also had fun debating on various topics with each other  at our accommodations at 17 Wing.
The National Effective Speaking competition was held the evening of June 15 at the Fort Garry Hotel. This was a wonderful location with a great set up.
The Effective Speaking part of the air cadet program is easily one of the least-known aspects of the program but one with the highest value.One recommendation I would give is to increase the awareness of Effective Speaking so that more cadets become inclined to participate in the future. Speaking is an area that requires practise to do well,but it can help everyone everyday throughout their lifetime.
I would like to thank the organizers of this event as well as the staff and volunteers of the Winnipeg ACL and Canada ACL to make this event possible and memorable.