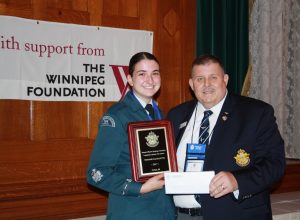 Some would say the cadet program is in my blood. I come from a lineage of success and evidence of what this fantastic program can offer to its members. I am very proud to come of what my family members achieved long before me. My grandmother was the first female Commanding Officer of her squadron, my father achieved the rank of Warrant Officer 1st Class as an Air Cadet himself and an eventual Commanding Officer, my sister was also a Warrant Officer 1st Class in her cadet career and is currently now an officer. All this paved the way for my love for this program long before I was old enough to even join. I have had the privilege of taking the lead from my family and focusing it into a love and passion that was all my own – and it allowed me to have a cadet career that was filled with incredible experiences, self-discipline, dream fulfillment and so much more.
My name is Warrant Officer 1st Class Heather Blake. I am a member of 514 Air Cadet Squadron in St. John's, Newfoundland and Labrador. When I joined cadets as a 12-year-old, thanks to growing up around members of the program, I already knew a lot of the opportunities that would be made available to me. What I could never have anticipated, however, is the way being an Air Cadet would make me feel. The camaraderie, the self-discipline, the adventurous spirit – but most importantly, the desire that comes only from the pursuit of your dreams. That is exactly what Air Cadets has allowed me to do – it not only gave me the opportunities, but it gave me the courage and the drive to both reach for my dreams and achieve them. I can never truly express how grateful I am for that.
This program allowed me to achieve the following awards and qualifications:
Air Cadet League of Canada Effective Speaking National Champion – 2017
Debert Training Center  – Staff – 2017
Power Pilot Scholarship – 2016
Glider Pilot Scholarship – 2015
Canadian Legion Medal of Excellence – 2015
Commanding Officers Award – 2015
Air Cadet League of Canada Effective Speaking Provincial Gold Medal – 2014
Air Cadet Service Medal – 2014
Most Effective Speaker Award every year of my cadet career in 2012, 2013, 2014, 2015, 2016 and 2017
100% Attendance Award – 2015
Military Band Intermediate Musician – 2014
Basic Drill and Ceremonial -2011
General Training – 2010
One of these incredible opportunities was the Effective Speaking Program where I achieved gold at the 2017 National Competition held in Winnipeg, Manitoba.
I look forward to being an officer with this program, after I age out of the program in September. I can't wait to give back to children all the amazing things that were given to me. I am off to Debert for the summer as a Glider Staff Cadet and I can't wait to be able to share my passion for flight with younger cadets. It is so important for me to share all the things I've learned with the next generation coming up through the ranks, and the importance of the Effective Speaking competition is certainly one of them! As I leave the cadet stream of this program behind me, I look forward to a future of inspiring younger cadets to reach for their dreams and helping them get everything they could imagine from this the Air Cadet Program!