This article was first published in Esprit de Corps, volume 26, issue 1.
By Howard Mar, National Governor of the Air Cadet League of Canada & Anthony Langlois, Air Cadet League of Canada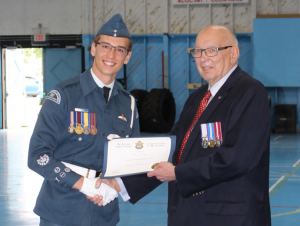 During his time with the Air Cadet Program, Air Cadet Nicholas Pasieczka, a University of Manitoba engineering student, has been awarded over $13,600 for his achievements. This is one of the largest amounts of post-secondary financial assistance awarded to an individual in the program's seventy-seven-year history.
The awards were the Young Citizens Foundation Scholarship, the Lieutenant- General G. Alan MacKenzie Bursary, the Hubbell Award – Janice and Barry Rempel Honorary Colonel's Air Cadet Scholarship Award, and the Rockwell Collins Continuation Flying Training Award.  Other scholarships included the International Air Cadet Exchange to France, the Power Pilot Scholarship and the Glider Pilot Scholarship. He has also received the Lord Strathcona Award, the Air Force Association Award, the Legion Medal of Excellence and the Dodo Bird Award in addition of achieving the Gold level of the Duke of Edinburgh's Award and being appointed an Award Leader.
During his time as an Air Cadet with 191 West Winnipeg Rotary Royal Canadian Air Cadet Squadron, he participated in the Provincial Biathlon Competition, winning two Bronze medals and was the top biathlete in 2015 and 2017. In 2016, he was the Top Manitoba Glider Cadet and the Top Northwest Glider Cadet. He has competed in the Provincial Effective Speaking Competition, placing first in 2015 and 2017 and second in 2016.  He is a leader and instructor at his Air Cadet Squadron, helping to train and inspire young Cadets.
When he was awarded the Young Citizens Foundation Scholarship in 2018, Nicholas made the following comments: " Words cannot express the thankfulness and appreciation of how the Young Citizens Foundation has forever changed my life. When I received the call, my body went numb and I was overflowing with emotions. Is this a dream? Being helped by countless individuals on my path to success, I am privileged to accept this enormous honour. This opportunity lifted a great stress off my shoulders as to how I would attend post-secondary education to become an engineer. I am excited to embark on this exciting new chapter of my life and change the world one step at a time. The combined generosity of Air Cadets and The Young Citizens Foundation has allowed me to pursue my dreams and I will continue to pay this philanthropical act forward into the community. Air Cadets is a program that forever changes lives and continues to inspire the next generation of youth. This program is available to everyone and presents you with endless doors of opportunity waiting to be opened. "
Apart from his involvement with the Air Cadet Program, he was the editor in chief of his school newspaper, a member of the student council and a Ukrainian Dance Instructor. He enjoys participating in biathlon, boxing, badminton, cross-country, track and field, soccer, ping-pong and running marathons and half marathons. He is a Lifeguard and Aquatic Instructor with a National Life Guard Certification and has completed his Water Safety and Life Saving Instructor courses.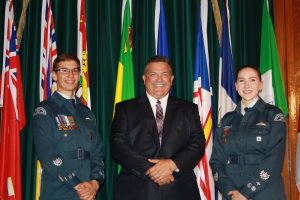 Every year, the Air Cadet League of Canada offers tens of thousands of dollars in national awards and scholarships to Air Cadets across the country. In 2018, the League awarded more than $20,000 in scholarships and more than $60,000 in Continuation Flying Training Awards, Pilot Training Achievement Awards, and other awards. The purpose of the Continuation Flying Training Awards offered by our many partners is to provide cadets who have successfully completed the Power Pilot Scholarship Course the opportunity to continue to accumulate pilot-in command flight time while the Pilot Training Achievement Awards are presented to deserving Cadets for use in continuing their flying or gliding training and increasing their experience.
The Air Cadet League of Canada also offers eight post-secondary education scholarships to Air Cadets. They are the Young Citizen Foundation Scholarship, the Birchall Scholarship, the Dale Scholarship, the Alex Venables Scholarship in Engineering, the Jazz Aviation Pathway Award for Professionalism, the Jazz Aviation Pathway Award for Professionalism and Diversity, and two Air Cadet League of Canada Foundation Scholarships.
All these awards and scholarships would not be possible though without the support and generosity of many individuals and organizations. If you would like to make a donation to establish a scholarship or to create an award, please contact the League by visiting aircadetleague.com.