Through the many industry partners, donors, and the efforts of thousands of volunteers and the members that help run our operations, the Air Cadet League of Canada has built a supportive community that strives to keep the education and development of youth as our main priority.
We should be proud of our contributions day-to-day as the betterment of our youth has a long-lasting effect on the betterment of our society. The Air Cadet Program's core values that we live by, encourage and support today's youth in their development and in their leadership roles in our communities. I want to acknowledge your tireless efforts to the program and I look forward to see where we can continue to succeed in our responsibilities in the coming years.
There are exciting projects and initiatives that are actively being worked on this year, one of which emphasizes the bridge between youth and industry partners in the aviation sector. The aim of this project will be to further cadets in their connections with employers and, also, help connect industry with strong youth leaders who can contribute to their organizations with fresh ideas through their global citizen mindsets.
The Strategic Plan was presented at the AGM and outlined the change agenda for the next 3 years. Several action plans are already being implemented, all with the goal of making us better as an organization. We are also tracking our progress closely on the Next Generation Screening Program and will provide updates where best suited.
Our governance function (including the recently developed risk management framework) at all levels of the organization helps to keep us accountable to our mission and is critical to ensuring identification and mitigation of any significant risks. This risk management framework will aid in improving our organization in everything we do. More on strategic governance is to come!
There is no shortage of work to be done, and as we approach each initiative, it is important to stop, reflect, and celebrate the progress we have made along the way. As always, I am honoured to lead this wonderful organization and look forward to another successful year of accomplishing our mission of developing our leaders of tomorrow.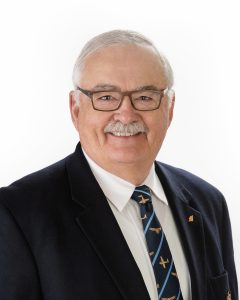 James Hunter CD
President
Air Cadet League of Canada