For immediate release
The Air Cadet League of Canada Announces 2019 Director of the Year
OTTAWA, ON (June 28, 2019) – The Air Cadet League of Canada (ACL) congratulates Thomas Taborowski on his 2019 Director of the Year Award at their 78th Annual General Meeting held on June 15th, 2019, in St. John's, Newfoundland and Labrador. The Director of the Year award has been presented annually since 1953 by the Department of National Defense in appreciation for stimulating interest in the Air Cadet Movement.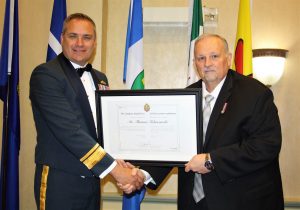 Thomas has provided exceptional service to the Air Cadet League of Canada as a senior member of the League Costing Working Group, the driving force behind the ACL National Resource Generation Committee and League Industry Partnerships Committee, and a senior vice president of the ACL.  Since enrolling to 246 Canadian Progress Squadron in 1975, he has received the Ontario Provincial Committee -Department of National Defense Power Pilot Scholarship Award and graduated as an Air Cadet Power Pilot from the Civilian Flying School in CFB North Bay. After graduation, Thomas first became a Civilian Instructor and then a Cadet Instructor Cadre Officer in the Royal Canadian Airforce Reserves. Over the next 8 years he volunteered with 818 Downtown Squadron, 166 Bull Dog Squadron and 94 Optimist Squadron. He has worked tirelessly to support the ACL Triple AAA Career Expo and has created countless industry and personal partnerships to the benefit of the ACL.  Outside of Cadets, Thomas is a successful Insurance Broker. His offices are members of the Insurance Brokers Association of Ontario and he sits on the Executive of the Mississauga Insurance Brokers Association. Through his contacts in the business community, he has generated generous corporate and personal donations for which the ACL is grateful.
The Air Cadet League of Canada is a civilian non-profit community based and volunteer led organization, which in collaboration with the Department of National Defence and our other partners, is dedicated to supporting the objectives of the Royal Canadian Air Cadet program, and to developing in youth the attributes of good citizenship and leadership; promoting physical fitness; and stimulating the interest of youth in the aviation and aerospace industry, including the air element of the Canadian Forces.
– 30 –
Contact
Natasha Foley, Assistant Communications Officer
T: (613)722-5891
E: natasha@aircadetleague.com